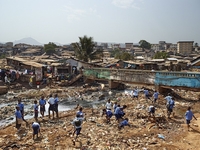 Background
Kroo Bay community is one of the highest disaster prone areas, situated in central Freetown, the capital of Sierra Leone. The people there live in difficult conditions and are flood prone. Children especially, are considered more vulnerable due to increased exposure to loss of lives and property, sickness and diseases. These communities are considered the poorest and Kroo Bay, with a population of about 6000 people is one of the biggest slumps that has suffered greatly from environmental and social problems such as annual floods, poor sanitation and personal hygiene, lack of latrines, erosion and filth, waste disposal and poor educational facilities.
Click/tap to enlarge images.

About SLEDT
SLEDT is a Non-Governmental organization working in Sierra Leone. SLEDT prides itself in working at the most deprived communities across the country. Kroo Bay happens to be one of the focus areas where deprived kids are being supported with learning materials and extra lessons to boost their chances of success at the National Primary School Examination. This project was started early in April 2021, where Chernor visited the only school in the community to do some assessment on the best pupils who promoted from the school to be sponsored but we could only get 2 pupils (LAMIN SESAY AND OSMAN KALOKOH) who got the best results and we later decided on going back to the school to at least achieve better results. SLEDT embarks on helping the pupils from the examination class and the best among them will be sponsored continuously until the of secondary school provided the pupils do not repeat in the same class. Textbooks were then supplied to a whole class of 25 (10 females and 15 males) and extra lessons was paid for. However, maybe due to late intervention, at the end of the academic year, only 2 pupils met the SLEDT criteria of aggregate 280 and above. This year however, supplies were given in time for early preparation for the exams -38 pupils were supplied this time (18 females and 20 males).
For our secondary school pupils, we are now sponsoring 4 secondary school pupils from the Kroo Bay community, 3 males and 1 female. We intend to sponsor more secondary school pupils from Kroo Bay community with the best result in the future.
First supplies to 25 pupils in Kroo Bay
Second supplies to 38 pupils in Kroo Bay
The secondary school students